The 53rd New York Film Festival, running from September 25 to October 11, showcases several high-profile features that will be opening in the coming weeks, including The Walk, Carol, Bridge of Sighs, and a sneak screening of The Martian.
Concurrent with the big-ticket Main Slate screenings are the Festival's more idiosyncratic series. Convergence (September 26 and 27) spotlights interactive and virtual reality titles. Projections (October 2 – 4) covers abstract and experimental movies. And Spotlight on Documentary offers a dozen examples of the genre.
Along with Special Events, the 53rd NYFF offers an intriguing series of eleven revivals, seven of them honoring the twenty-fifth anniversary of The Film Foundation. Founded by director Martin Scorsese as a means to develops more durable film stock, TFF has gone on to restore over 700 films from archives, studios, and laboratories around the world.
According to Kent Jones, chair of the NYFF selection committee, the revivals are an opportunity to showcase recent restoration work. Just as important, the series "allows you to look at new films in light of older films and older films in light of newer films."
Two of the revivals offer contrasts to The Assassin, a martial arts film by director Hou Hsiao-hsien that will be screening in the festival. (The Film Foundation spotlight also includes Hou's 1983 coming-of-age drama The Boys from Fengkuei.)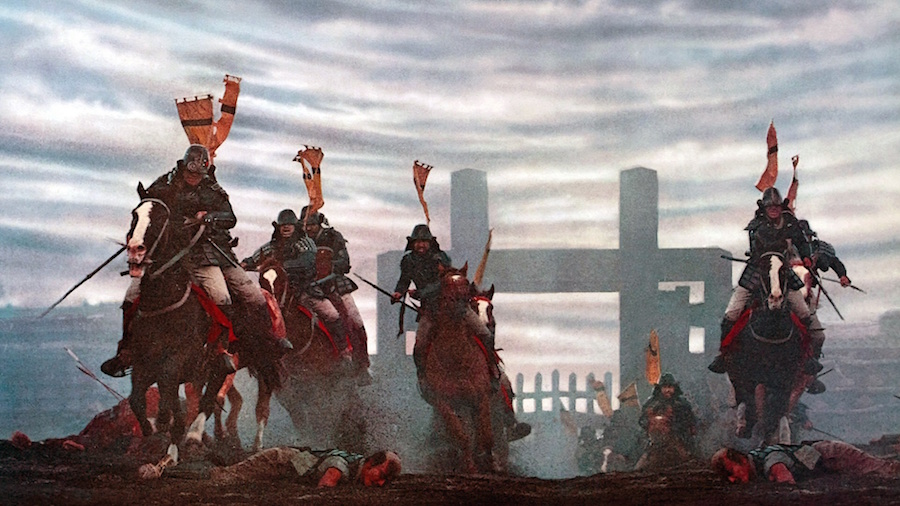 Akira Kurosawa's extraordinary Ran, a sort of reworked King Lear set in 16th century Japan, showed viewers here just how complex and wide-ranging a "martial arts film" could be. It opened the 1985 NYFF and went on to receive four Academy Award nominations (winning for Costume Design). This full restoration will be released by Rialto Pictures.
More obscure but in its way just as essential to the genre is King Hu's A Touch of Zen, released in a director's cut in 1975. A bridge between stage-oriented martial arts and later, more cinema-oriented works by Yuen Woo Ping and Lau Kar-leung, A Touch of Zen was for many viewers here their first glimpse into the wuxia genre. Hu's films, which include Come Drink with Me and Dragon Gate Inn, showed a generation of filmmakers the possibilities available to them in the genre. A Touch of Zen won Hu a technical award at the 1975 Cannes Film Festival; the 4K restoration being shown here also screened at Cannes this past spring.
A companion piece with De Palma, an affectionate look at Brian De Palma from Noah Baumbach and Jake Paltrow, Blow Out (1981) lets viewers see the director at the height of his powers, working with John Travolta in a dark, despairing examination of political paranoia. Blending Michelangelo Antonioni's Blowup with American conspiracy theories, horror movies, and De Palma's own technical mastery of the medium, Blow Out was a difficult pill to swallow for viewers of the time. The director's later films rarely seemed this personal or driven.
The Film Foundation sidebar includes two examples of classic Hollywood filmmaking: John Ford's The Long Voyage Home (1940) and Ernst Lubitsch's Heaven Can Wait (1943). Adapted from works by Eugene O'Neill, The Long Voyage Home is a somber ensemble piece about the crew of a freighter crossing the Atlantic in World War II. Ford's follow-up to The Grapes of Wrath features remarkable cinematography by Gregg Toland and one of John Wayne's least-known, most sympathetic performances. The Festival is screening a new restoration from the UCLA Film & Television Archive.
Heaven Can Wait is a comedy of manners from a director renowned at the time for his sure hand with sophisticated material. Don Ameche plays a wealthy rake who tries to persuade a skeptical Devil that he really did lead a dissolute life in the Gay Nineties. Ameche's characteristic stiffness as an actor works well with his part, as the film questions how could someone so prim and proper get into any trouble. But what makes Heaven Can Wait such a pleasure to watch is its Technicolor. Ernst Lubitsch was working at the time at Twentieth Century Fox, a studio with a style quite distinct from MGM or Warner Bros. Gene Tierney looked so spectacular here that she became one of the studio's top stars. (Her next film was Laura.) Fox collaborated with The Academy Film Archive and The Film Foundation for this restoration.
Some might see Rocco and His Brothers (1960), Luchino Visconti's epic account of a lower-class family struggling in postwar Milan, as the antithesis to Lubitsch. This three-hour melodrama was, according to Dennis Doros of Milestone Film & Video, "the last great film from Italy's golden age of neo-realism."
Doros points out that Visconti helped invent the genre with Ossessione (1943), an unauthorized version of James M. Cain's The Postman Always Rings Twice. Neo-realism was distinguished by its use of real locations, focus on the poor and underprivileged, grim themes, gritty details and uncensored dialogue.
But with Rocco and His Brothers, Visconti was reaching for something more, something operatic in tone. He built scenes from and for emotional impact, not narrative logic, drawing out love scenes and fights like arias, supported by Nina Rota's sweeping score. If anything, Rocco drove a stake through the writhing remains of neo-realism.
Starring Alain Delon as Italy's skinniest boxer, Renato Salvatori as his brutish brother, and the astonishing Annie Girardot as the prostitute who comes between them, Rocco turned its sordid characters and settings into a timeless tragedy.
As Doros notes, Visconti helped create "a new form of cinema, one that was not fully appreciated until the New American Cinema directors—specifically Martin Scorsese and Francis Coppola—adopted it for their own masterpieces. Rocco was the blueprint for Raging Bull and the artistic godfather for The Godfather."
Milestone will be releasing Rocco and His Brothers nationally, but right now the best and only way to see it is at the New York Film Festival.