Pianist Ben Model has been accompanying silent films for almost thirty years, including a few of my National Film Registry screenings. Along with film historian Bruce Lawton, he launched the Silent Clowns Film Series in 1997, which this spring will focus on features and shorts by Harold Lloyd in screenings at the Bruno Walter Auditorium at New York's Library for the Performing Arts.
Model has helped bring back to the public several long-neglected comedians. He's also uncovered films so obscure that no one even knew they were lost.
In a new DVD, Accidentally Preserved, Model is making some of these films available again.
Here are the titles:
The Water Plug with Billy Franey (1920)
Cheer Up with Cliff Bowes (1924)
The House of Wonders—Elgin Watch Company (1931)
Loose Change with Jack Duffy (1928)
Mechanical Doll/The Dresden Doll—Fleischer cartoon (1922)
The Misfit with Clyde Cook (1924)
Shoot Straight with Paul [James] Parrott (1923)
Wedding Slips with Monte Collins (1928)
The Lost Laugh with Wallace Lupino (1928)
We spoke recently about the DVD and his other plans.
How can readers get the DVD?
The Accidentally Preserved DVD will be available from Amazon.com, probably in May. They are DVD-R discs, made on-demand using Amazon's CreateSpace service for books, CDs and DVDs. CreateSpace is geared to be used by individual producers, but studios like Warner Home Archive use it for their releases. Sony's DVD of Charley Chase Columbia shorts used this service as well.
How were they digitized?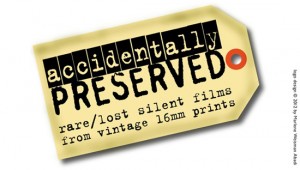 The films have been transferred in HD at 1080p with the Sniper-16 HD Telecine. Higher resolution would've been prohibitively expensive, and probably unnecessary for this project. I wasn't looking to spend hours and hours digitally restoring the films, but I did want them to look as good as possible on a budget. My goal was to be make them available for viewing in high-quality and affordable (for me) transfers with a proper musical score.
Where did you find these films?
Five of them came from eBay. They were items no one was interested in bidding on. The Wallace Lupino film was completely mis-labeled, but I recognized Lupino from frame grabs. The Fleischer cartoon was in a collection that I sort of inherited 16 years ago from a distant uncle. The other three came from a collector who was impressed with a YouTube series of these rarities I did last summer. He boxed up films from his collection and sent them to me.
In some cases are these the only existing prints?
Yes! The prints I have of WEDDING SLIPS, THE LOST LAUGH and THE HOUSE OF WONDERS are the only ones in existence, as far as I know. Some of the others, like CHEER UP, SHOOT STRAIGHT, and MECHANICAL DOLL, may be around somewhere, either in originals or dupes, but they're not really available in the sense that you can see them.
Why haven't they been preserved by a museum or archive?
I haven't approached an archive about the one-of-a-kind prints as yet, although my plan is to donate them to the Library of Congress when the Accidentally Preserved project is done. The remaining rare titles may or may not be of interest to an archive for preservation work. There are thousands of films in need of preservation in every archive; between funding, staffing and now availability of film stock it's impossible for any archive to keep up with the films they already own. One thing I'm trying to show with this project is that collectors as well as archives can preserve and exhibit vintage 16mm and 35mm prints.
My goal here was accessibility. There are thousands of films that have been preserved than no one can see. I wanted to use the digital and VOD tools as a sort of 21st-century version of having people over to your house and showing them prints from your film collection. Fans of classic and silent film are interested in these rare films—you can see that by the success of my YouTube series, and the fact that my Kickstarter project for Accidentally Preserved went over its funding goal. In a way I'm taking the same approach Louis C.K. has. With Kickstarter and CreateSpace, I can get this content to fans who want it without working through a distributor.
Are there many more films like this out there?
Hundreds. I've got maybe 15 or so, but there are dozens of collectors whose private archives include rare or one-of-a-kind 16mm prints from the 1930s and 1940s. Films also turn up piecemeal at flea markets or estate sales, and sometimes you'll hear from the widow of someone whose late husband had shelves of the stuff in their basement.
I will show film as long as I can. I hope Accidentally Preserved helps shine a light on titles that have survived because prints were made decades ago on 16mm safety stock. Incidentally, 16mm safety celebrates its 90th birthday this year.
Ben will have more to say about his collection as its release date approaches in May. Also, check the Accidentally Preserved website at: http://www.accidentallypreserved.com/